Martin Heck was filming a nearby dormant volcano when plumes of smoke filled the sky signaling Mt. Calbuco's eruption. Martin quickly setup his timelapse equipment and captured surreal images of "Calbuco" in 8K FUHD.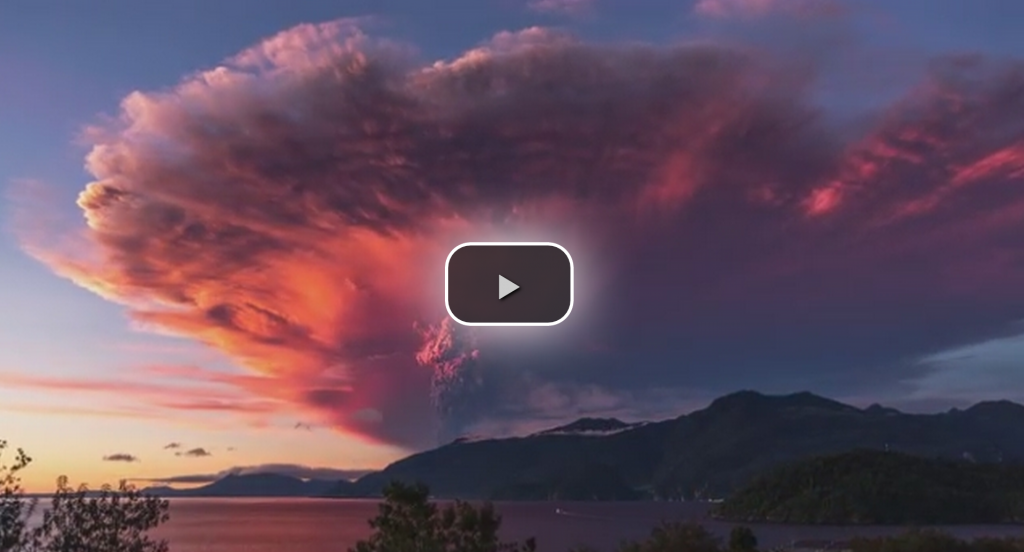 Digital Rights Management:  Nimia
According to Martin Heck:
Volcano Calbuco erupted on April 22, 2015, for the first time in four decades. Located close to the cities of Puerto Varas and Puerto Montt in southern Chile. We spent the prior couple of days on the neighboring volcano Osorno (~20km linear distance) shooting timelapses. After an amazing night under the night sky we took the cable car downwards after a delay caused by repairs. Already late we headed south to catch the ferry on Routa 7 down to Patagonia. After 10min on the ferry we noticed a massive, almost nuclear looking cloud boiling upwards just were we left a few hours ago. Frenetically looking for a good outlook we then rushed to the only non-forested place to get a decent view of the show. We quickly put every bit of camera-equipment we could find on the constantly growing mushroom-cloud. We shot timelapses in 8K and 4K with a Pentax 645Z and Canon 6D. On the A7s we shot 4K video to the Shogun. We filled almost all of our memory cards in the prior night so I had to do backups while shooting all this stuff. This was for sure the most incredible show I've ever seen. I think this is a one in a lifetime event and I am so happy that we were able to capture it in all its glory.
Watch the Mt. Calbuco Eruption by Martin Heck here.