Branded Content  |  Sponsored Video
What is a video sponsorship and what does a video sponsorship agreement for a short documentary film or a branded video content look like? This short article will describe video sponsorships and/or branded content and provide an example video sponsorship contract agreement that you can use with your next sponsored project.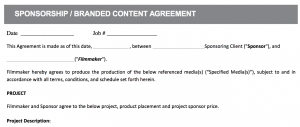 Video Sponsorship: a video sponsorship is arrangement where a company provides money to a filmmaker to support the filmmaker's video or film project. The video project could be a short documentary or it could be a branded lifestyle content piece related to the company's customers, eg., surf, skate, mountain bike, etc.
Branded Content: branded content is content with a consumer benefit in an authentic environment in the service of a brand. It is the fastest growing revenue source for production companies and filmmakers. Attributes that are critical for successful branded content include: credibility, design, humor, thought-provoking and short content.
Digital Rights Management by Nimia
Filmmakers and/or production companies should always use a legal agreement when producing sponsored videos or branded content. Essential elements include:
Sponsorship $$$ – define how much money the sponsor is giving you;
Copyrights – ensure you maintain rights to the video and footage produced so you can license individual assets on app.nimia.com;
Product placement – define in writing any product placement desired by sponsor;
Logo placement – define sponsor's logo placement, eg., at beginning or end of video project;
Credits – defines sponsor's desired credits.
Video sponsorships and branded content are rapidly growing revenues streams and should always include a legal contract agreement. Consider using this sponsored/branded content contract agreement with your next sponsored project.
Eric J. Harrison, Esq. is a registered attorney licensed to practice in Washington state.  By accessing and reading this blog, you acknowledge and understand that no attorney-client relationship has been formed and you further acknowledge and understand that this blog is not intended to constitute legal advice. Legal advice and counsel requires a fact-specific analysis of your particular issues, and you should thus obtain legal advice directly and individually from an attorney licensed to practice in your jurisdiction, if appropriate.