Prior to shooting a video of a building for commercial use you should consider whether the building is under copyright protection or in the public domain. If the building is under copyright protection in the jurisdiction, you should be aware that the respective copyright law may provide an exception to the enforcement of the architect's exclusive right to make reproductions of the building in 2D: what has become known as freedom of panorama
[1]
.  In the U.S. there are no copyright concerns in filming buildings, provided you are not capturing a mural, sculpture/statute, or painting (e.g. work of art).
What is freedom of panorama?  Broadly speaking, freedom of panorama is the right to film or photograph buildings, sculptures, statutes and other works under copyright protection that are permanently located in public spaces. From a practical point of view, freedom of panorama operates as an exception to the required prior authorization by the architect or copyright owner.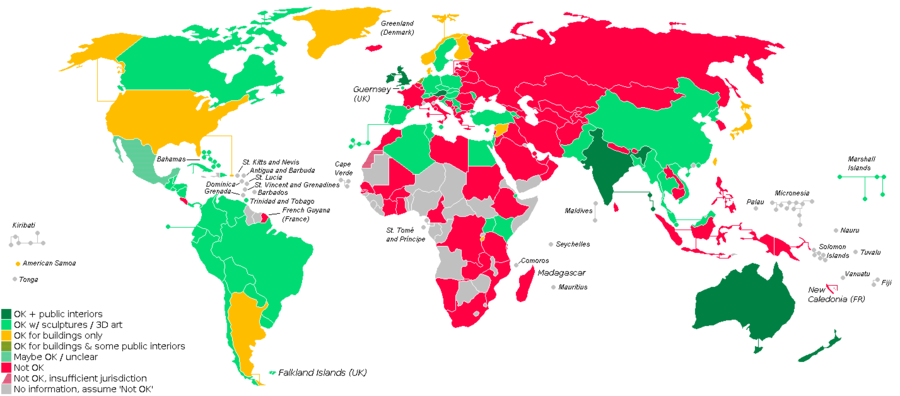 Image Source:  http://commons.wikimedia.org/wiki/Commons:Freedom_of_panorama
However, not every country has implemented a freedom of panorama clause in its copyright legislation and its scope may vary from one jurisdiction to another. For further information, here is a great link to Wikimedia Commons' website with detailed information on copyright, buildings and freedom of panorama around the globe.
THE CURIOUS CASE OF THE EIFFEL TOWER
Not long ago we were asked whether the Eiffel Tower could be videotaped and the answer is: it depends. The Eiffel tower itself is in the public domain and pictures and videos can be taken freely. However, the Eiffel Tower's several illuminations are visual creations protected under French copyright law according to a ruling issued in 1992 by the court of last resort in France: the Cour de Cassation. The case involved the reproduction of the lighting displayed in 1989 for the 100th anniversary of the Eiffel Tower.
The Eiffel Tower's copyright issues are managed by the semi-public company elected by the Paris City Council Société d'Exploitation de la Tour Eiffel. Property releases may be requested through its website.
BUILDINGS AND TRADEMARKS
Other than by copyright, buildings may be protected under trademark laws. In the U.S. there is a number of buildings that claim trademark protection, as we explained in our article When is a Property Release Needed? The mere transactional act of licensing video footage showing a trademarked building is not a trademark infringement per se. Rather, trademark infringement may occur when using video footage showing a trademarked building in a commercial advertisement in a way that implies an association between the product advertised and the trademarked building shown in the video.
Here is a non-exhaustive list of buildings that may pose problems from a copyright or trademark perspective: American Stock Exchange (NYC), Apollo Theater in Harlem (NYC), Moulin Rouge (Paris), Pike Place Market (Seattle), Radio City Music Hall (NYC), Space Needle (Seattle), Chicago Theater, Disney's Epcot Center and Disneyland, Newport Mansions, Rock & Roll Hall of Fame (Cleveland), Rockefeller Center (NYC), Chinese Theater (L.A.), Universal Studios, Louvre Pyramid (Paris), Dartmouth College and the "tower" (Hanover, New Hampshire), Eiffel Tower at night (Paris), NY Stock Exchange, The Flatiron Building (NYC), The Chrysler Building (NYC), New Orleans Superdome, Sagrada Familia (Barcelona), Frank Lloyd Wright buildings, Empire State Building (NYC), Petronas Twin Towers (Kuala Lumpur), Sydney Opera House (Sydney), Taipei 101 (Taipei), Golden Gate Bridge (San Francisco), Transamerica Pyramid (San Francisco).
If you have any questions, please contact your Nimia Agent.
By accessing and reading this blog, you acknowledge and understand that no attorney-client relationship has been formed and you further acknowledge and understand that this blog is not intended to constitute legal advice. Legal advice and counsel requires a fact-specific analysis of your particular issues, and you should thus obtain legal advice directly and individually from an attorney licensed to practice in your jurisdiction, if appropriate.
---