Imagine your dream agency sends you a message. They love your work and are interested in licensing one of your videos. After a brief moment of elation, reality sets in;
How do you license your footage? Where do you begin?
First, you need a license agreement. Maybe the inquiring agency sent you one? If not, you'll need to write your own. Confused by legal jargon? You may consider hiring a lawyer to review the agreement you were given, or to walk you through the terms of use and how much you would like them to pay. Or, you craft your own without a lawyer, but with the understanding that you'll take on any risk alone if you don't get it right.
Then, agree with your client on a transfer service, like Dropbox, WeTransfer, etc… If you don't already store your files in the cloud, you'll need to upload them.
Finally, determine a payment method. Perhaps the client, a major corporation, wants to send you a check. But, they don't want to pay for 60 days!?! They want to use Paypal or a credit card? How do you accept a credit card? How about a wire transfer? They're in Germany…how does that work?
Nimia's Solution:
If the above sounds complicated and time consuming, we have a simple and easy tool for you: Nimia's Direct Sale feature. As filmmakers ourselves, we've received requests through our social channels that we didn't know how to handle. Some of us spent hours crafting our own agreements, crossing our fingers that we didn't miss any of the fine print. Or, we didn't have the time or resources to manage such a request. Even thriving production companies, with access to lawyers and resources, still struggle to license footage without affecting day to day operations. We created Nimia's Direct Sale feature to minimize the time and guesswork that goes into licensing footage, giving filmmakers a secondary income stream, with less hassle. 
What is the Direct Sale feature? Put simply, it is a private licensing transaction between two parties.  Put another way, this feature allows a filmmaker to license a video to a client, while Nimia handles the hosting and distribution of the footage and facilitates payment between the filmmaker and client. Moreover, the filmmaker retains complete control over how their footage is licensed and every transaction is insured by our legal team, taking risk out of working with new clients. 
How it works:
First, select the videos.
Nimia's platform allows you to store and manage an unlimited number of full resolution master videos and clips. To license directly to a client, go to your asset manager, select the videos (or upload them if you haven't already), and then click "Sell Direct."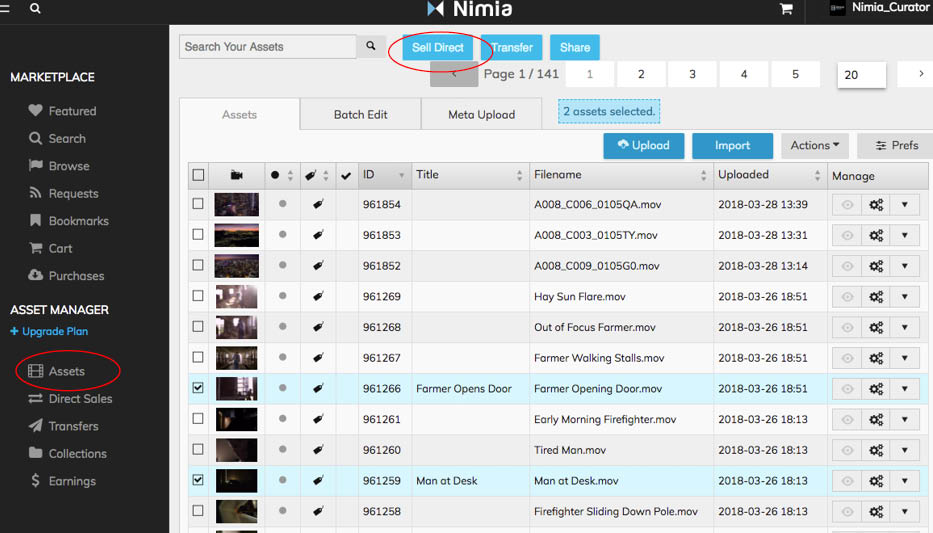 Then, set the terms of your license agreement.
You can upload your own agreement, or use Nimia's standard agreement. You can specify the project type, medium, distribution, viewership, and term (timeframe) you want to include in the license. If you decide to use Nimia's standard agreement, you have the option to include addendums, or added terms and conditions, to supplement what is already included.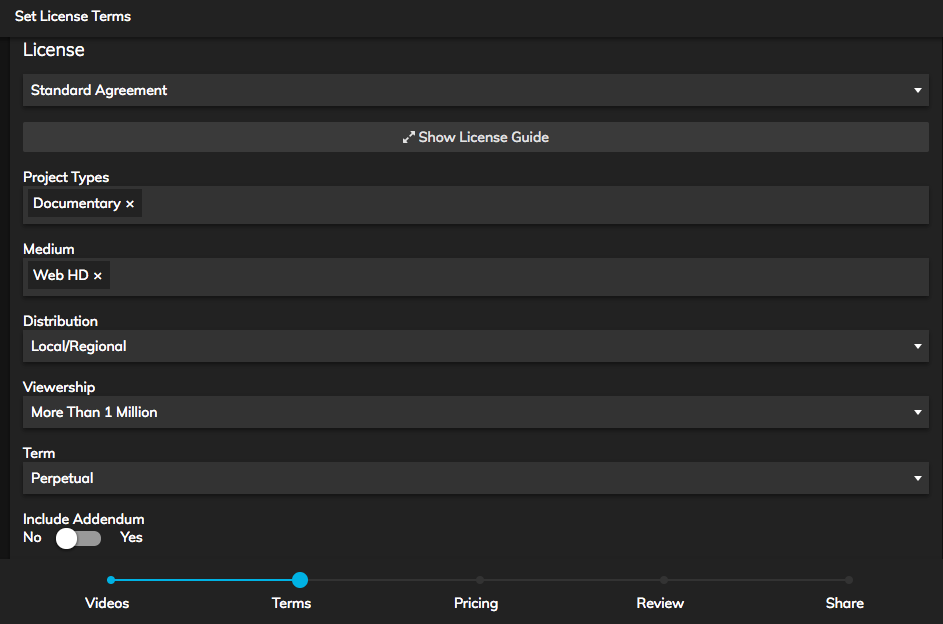 Next, set your price.
Price each clip individually, or set a price for the entire bundle (set of clips).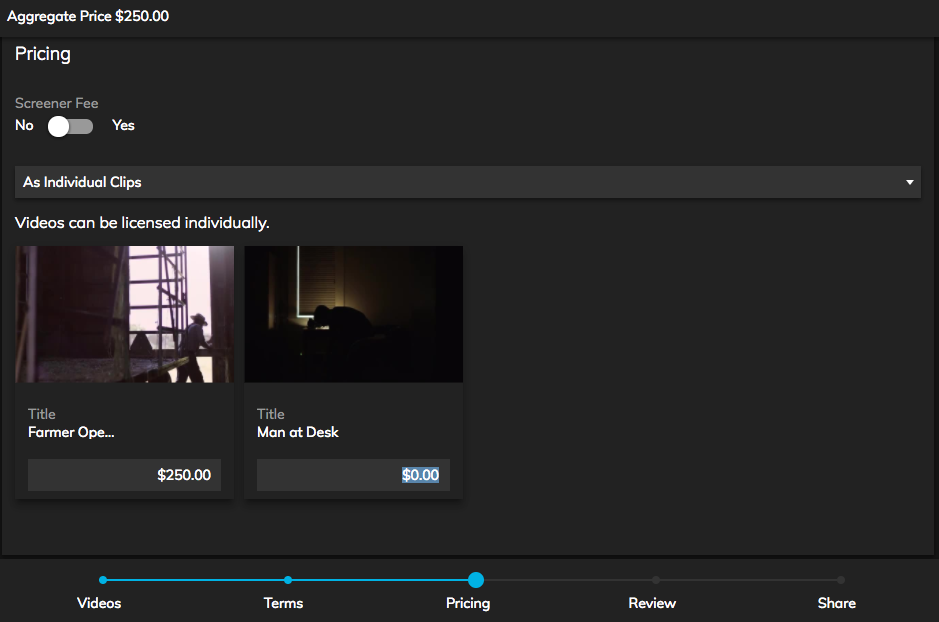 Before you send, review.
Confirm the selected footage, pricing, and license agreement before you send to your client.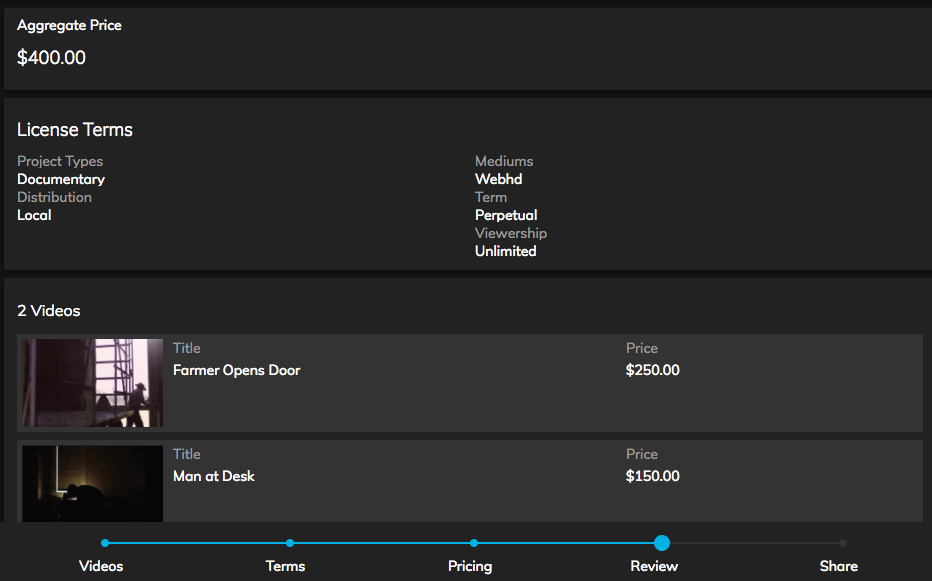 Share videos with your client.
Create a public or password protected link that can be shared. Or invite individuals via their email address.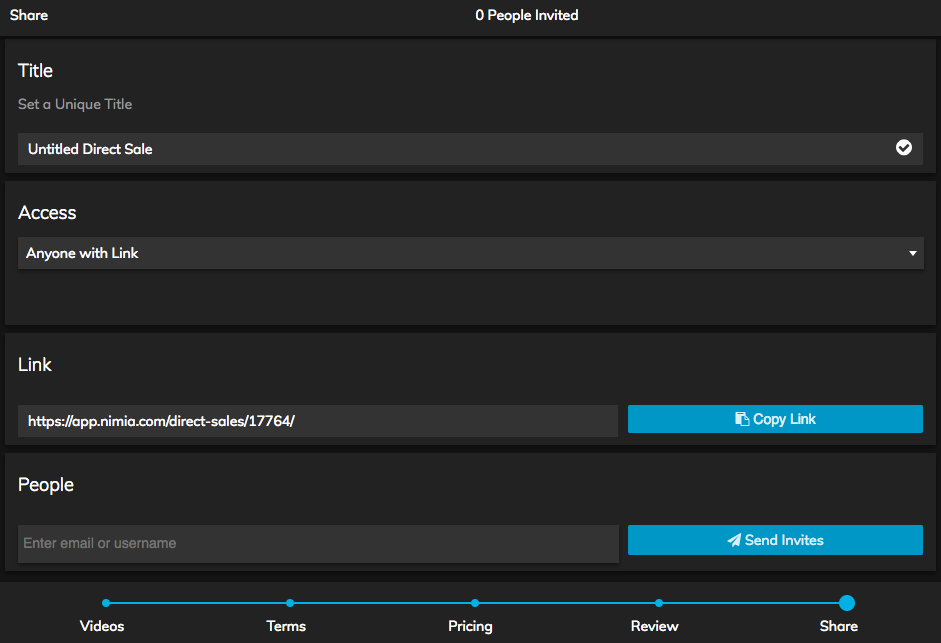 Finally, receive payment easily.
By default, payments through Nimia require a credit card. But, on a case-by-case basis, Nimia approves brands or agencies to set up an account for direct invoicing. Contact [email protected] to learn more about creating an account for your client. 
Learn more about direct licensing with Nimia here.