Footage Licensing 201
Do you need a way to license your footage directly to a client? When you buy or sell your footage with Nimia, you can facilitate a licensing transaction outside of the standard stock footage marketplace via the Direct Sale feature.



Create Direct Sale
A footage licensor can create a direct sale by creating an account at app.nimia.com, uploading the file(s) they want to license, selecting those files inside their asset manager, and clicking the blue Direct Sale button at the top of the asset manager.
Set Terms and Price
The licensor can then set the terms of the license agreement (note, direct sale files are licensed as if they are rights managed (RM) files. See licensing 101 for RM terms and details), and then the price of each individual file.
Share
Once the terms and prices have been set for all file(s) in the direct sale, the licensor can then share their private licensing link by: inviting people via email (note, Nimia immediately notifies the recipients), creating a password protected link, or creating a publicly available link that you can personally share with the licensee.
Purchase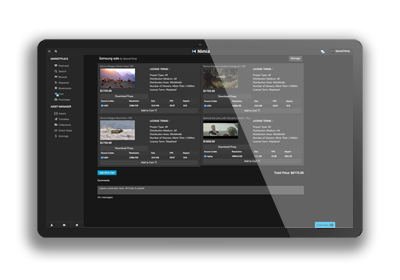 When the licensee receives the link or email inviting them to view the private direct sale, they have the option to download a watermarked low resolution version of the file, view the terms and pricing, view the original video's metadata, and add it to their cart to purchase. Once they have purchased it, the licensee immediately gains access to download the full resolution file, and the licensor is notified the video has been licensed and theirs earnings are available. The rights managed license agreement including the terms you set are also immediately sent to the licensee for their reference of how the footage can be used.
View a Direct Sale example here (password: example)
Questions? Contact us.