Featured  and  Fabulous!
We love our producers, we love our content, and we love sharing it all with you! As you can see above, we've made some wonderful changes to the Featured page that will keep you up to date with all the fresh activity happening on Nimia. Go take a look!
Latest,  Trending,  and  Popular,  oh  my!
You have beautiful content, and we want it to be found!
We added three new ways to experience the stream of content coming in to Nimia! The latest page will show you the most recent uploads, trending is a super secret algorithmic ordering, and popular is currently sorted by most views. Quick, go upload some content and maybe your video will become the next "trending" or "latest" video showcased on the Quickies section of the new featured page!
Meta  Score
We've made three fields (title, description, and keywords) required for publishing media to our archives. As always, we encourage you to fill out as much meta details as possible to help your videos be found, but these fields are the very basics each video should have. Hopefully the fun new meta score bar will encourage you to get in the green!
But just in case… send a screenshot of your asset manager with 10 or more green meta score bars to [email protected] by Friday and we'll give your account 5GB of permanent bonus storage!
More  Like  This
Love the video you're watching? You can now check out some similar videos right from the video detail page! Careful, I was checking out some of Upthink Lab's new clips and next thing I know the work day is over and it's time to go home! Wait, that's actually a good idea… just don't let the boss catch you! (Disclaimer: Nimia is not responsible for time or jobs lost by space-time continuum glitches that may occur while watching our content.)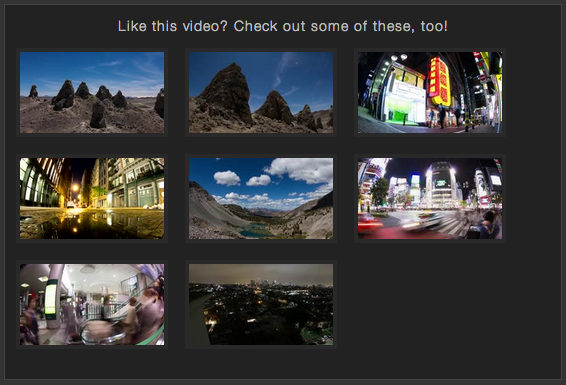 That's  all  folks…  until  next  time!
As always, if you have any feedback, comments, or suggestions on these changes or anything Nimia, we'd love to hear from you!