You perform & deliver work according to an agreed upon contract with your client and your final invoice payment never arrives. The following paragraphs cover what you should do when you don't receive payment and also what you should implement to protect yourself in the future.
Have Nimia flex legal muscle
Nimia's legal team is here to help you with your contractual work. If a client is late or refuses to pay the final invoice amount, contact Nimia's legal team. We will contact your client on your behalf, discuss the issue in a professional manner and get you payment. We can flex legal muscle when you need it, but you need to make sure that certain legal terms are well defined and mutually agreed upon in your contract.
Implement these two processes in the future 

There are two things you can implement to ensure you get paid for your contractual work. One option is to use Nimia's Direct Sale feature to deliver the final work.  Payment for your work will be secured through Nimia's direct deposit payout.  The second option is ensure that both you and the client sign a written contract that specifies the contractual terms before you start the work.
1. Deliver your work using Nimia's Direct Sale feature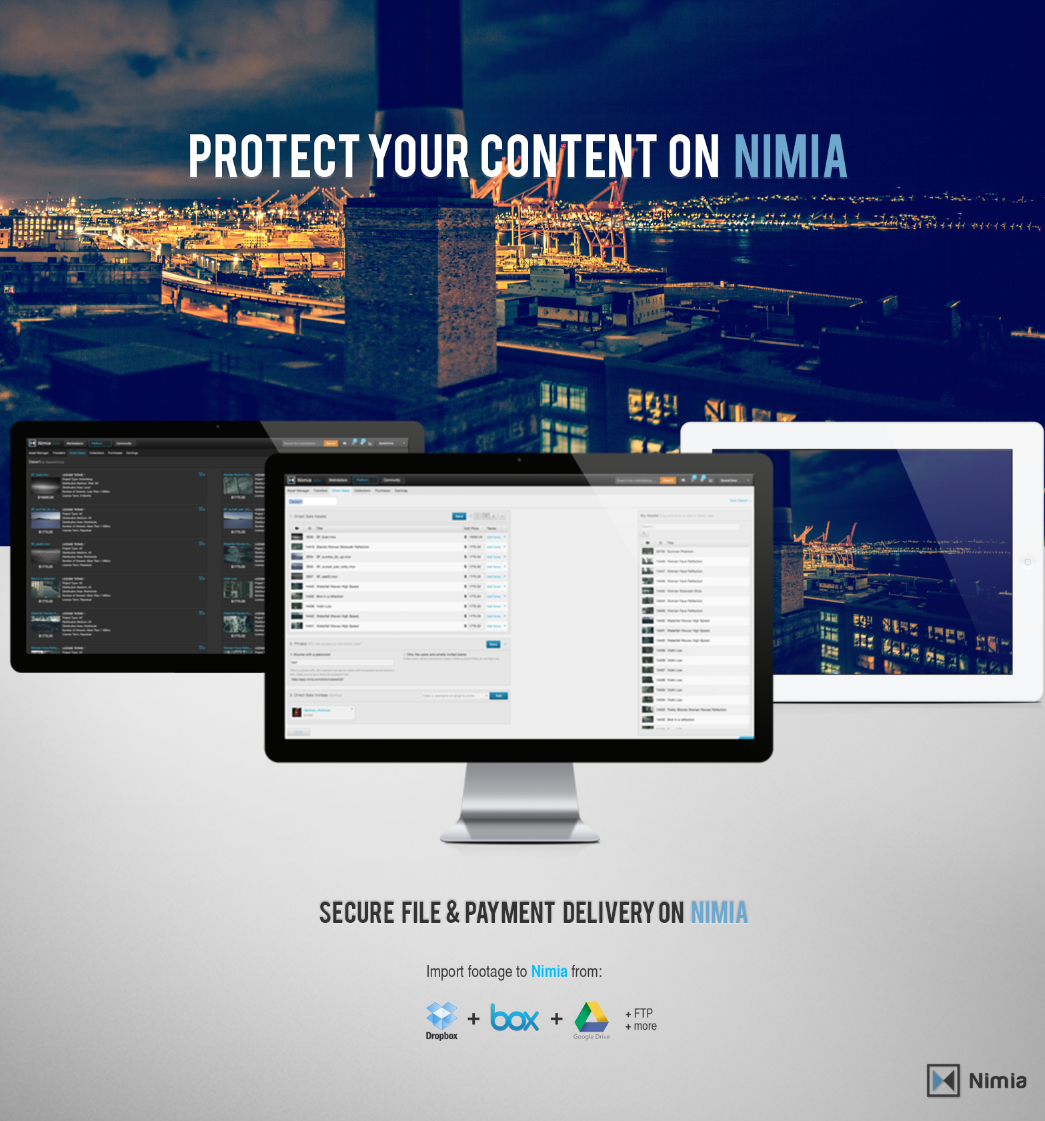 You can use Nimia's Direct Sale feature to deliver the final work. Your client will be able to view your work but they won't be able to download it until they pay. You get peace of mind knowing that payment is secure. Nimia takes 10% of the final price for handling credit card, data storage, transfer, and the risk if the credit card turns out bad.  For more info on the Nimia Platform click here.
2.  Sign a production contract
Whether the work is for a friend or a Fortune 500 company, you look more professional when you use a contract. Nimia's legal team has drafted a production-orientated contract you can use that is available on nimia.com/legal, or that you can download here. If you like using your existing contract be sure that it includes the following items.
a. Pricing/Rates
To avoid confrontation in your services is to make your rates clear. Put the rates down in writing during the initial stages of the project and make sure your client understands the rates. If you charge by the hour, include a minimum and maximum work-hour clause. "Project won't take less than [ ] hours and no more than [ ]."
b. Payment/Invoicing
Make sure the payment schedule is clear, half now, half upon completion, or three installments 50%-25%-25%. Include a late fee clause for payments received after 30 days from the time of invoice.
c. Cancelation Fee
Sometimes, for reasons beyond anyone's control, a project gets canceled after you started working on it. If you don't have a contract, it is much more difficult to get paid for the work you've done up until the notice of cancellation. A cancelation fee clause makes sure you get paid for the work you've already done. The cancelation fee can be written in stages according to the percent of the project completed or a flat 25% to 50%.
d. Revisions And Rewrites
Ensure your contract has special provisions for the number of revisions and the hourly rate for additional man-hours spent on the project. The clause should specify two revisions/rewrites and charge for any more the client wants done.
e. 'Scope Creep'
Ensure a clause reserves your right to adjust the rates of the project should the scope of the job, or amount of work you have to do is increased significantly. This clarifies to the client that they are liable to pay extra for any additional requirements they decide they want to include.
f. Copyrights & Rights to the work produced
Ensure you have one of the following two types of clauses: (i) you own all the work produced and grant a license to the client to use the work, see Nimia Standard Production Contract; or (ii) the client owns all the work produced and the client grants you a license-back, See example legal clauses at nimia.com/legal. Having one of these clauses in your contract will ensure that you can use the work you produced in show reels and to license on app.nimia.com
Eric J. Harrison, Esq. is a registered attorney licensed to practice in Washington state.  By accessing and reading this blog, you acknowledge and understand that no attorney-client relationship has been formed and you further acknowledge and understand that this blog is not intended to constitute legal advice. Legal advice and counsel requires a fact-specific analysis of your particular issues, and you should thus obtain legal advice directly and individually from an attorney licensed to practice in your jurisdiction, if appropriate.